News Around Town
Subscribe to posts
The FIA's Action for Road Safety is a global campaign, focusing the federation's resources on helping its member organisations around the globe to educate and advocate for safer roads, vehicles and behaviours.
The FIA has a long and distinguished history in promoting road safety. For many years the Federation has lobbied for improved legislation, infrastructure and vehicle safety technologies on an international scale.
Road safety is a global problem with 1.3 million people losing their lives and 50 million others seriously injured annually as a result of road accidents. It is estimated that by 2020 road traffic accidents will claim 2 million lives each year – more then any other global pandemic.
On 11 May 2011 the FIA launched its Action for Road Safety in support of the United Nations' Decade of Action for Road Safety. The FIA's initiative aims to lower the alarming figures associated with global road accidents and to spread the safer motoring message.
The FIA promotes the safe system approach. Our action covers each of the decade's five pillars:
• Management through direct engagement with governments and international institutions. 
• Education and training of drivers on the ground through the action of FIA Clubs worldwide. 
• Vehicle safety through Euro NCAP and the promotion of test results;
• Infrastructure through clubs' involvement in iRAP programmes (where they are often the lead partner), and strong cooperation with the World Bank and Multi-lateral Development Banks.
• Post-crash care, with cooperation on the ground together with emergency services, lobbying for the eCall service, and work on the ground with the Red Cross.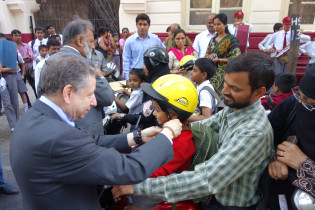 The FIA has been advocating at the highest levels to push leaders to commit to road safety both nationally and globally. This has included strong engagement with international bodies such as the UN, EU, WHO, Multi-lateral Development Banks, ITU, IFRC, ITF and the European Commission and meetings with Heads of State around the world.
The FIA has called for:
- Inclusion of road safety as part of the Sustainable Development Goals post-2015;
- The setting up of an innovative financing mechanism for road safety on the model of UNITAID and the contribution on plane tickets. 
- Leaders to prioritise road safety at the national level (introducing when necessary effective legislation, dedicated strategies, and national agencies), and to commit to putting the issue at the top of the global agenda.
The FIA has been supporting action by the 236 FIA Member Clubs worldwide to educate and advocate for safer roads, vehicles and behaviour on the ground. So far, more than 90 road safety projects have been supported by the FIA Grant Programme in cooperation with the FIA Foundation in over 50 countries.
The FIA has entered a number of commercial partnerships as well with leading companies such as Michelin, Schuberth, Iveco and Total.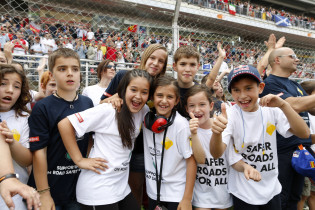 The FIA Action for Road Safety campaign has been enthusiastically championed by the motorsport community and well-known figures including Sebastian Vettel, Emerson Fittipaldi, Michael Schumacher, Sébastien Loeb, Yvan Muller and Monisha Kaltenborn who have fiercely backed the campaign's simple message of safer motoring and safer road use.
The campaign has also received endorsements from heads of state, leaders and international opinion formers such as the President of Brazil Dilma Rousseff, World Health Organisation (WHO) Director-General Margaret Chan, Archbishop of Capetown Desmond Tutu, Inter-American Development Bank (IDB) President Luis Alberto Moreno and United Nations (UN) Secretary-General Ban Ki-moon.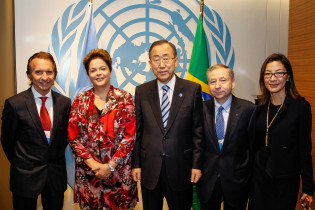 The FIA is also promoting 10 Golden Rules for Safer Motoring, a set of simple tips intended to help motorists improve their driving behaviour. These rules hope to assist motorists in reaching a golden standard of motoring and to remind them of their responsibilities to themselves, their passengers and all other road users. 
Download the FIA Golden Rules in one of our 27 languages:


FIA GOLDEN RULES
I WANT TO BE SAFE 
I PROMISE TO:
BELT UP 
All passengers are my responsibility 
RESPECT THE HIGHWAY CODE 
My car is made of metal, pedestrians and children are not 
Rules are there to protect us all 
OBEY THE SPEED LIMIT 
CHECK MY TYRES 
DRIVE SOBER 
When I am drunk or on drugs, I am a danger on the road.
Calling and texting make me dangerous.
Getting there late is better than not at all.
PROTECT MY CHILDREN 
Keep them safe in car seats. 
PAY ATTENTION 
STOP WHEN I'M TIRED
WEAR A HELMET
BE COURTEOUS AND CONSIDERATE 
Respect other drivers.
Amanda Gambacorto, 21, of the Belford section of Middletown, was pronounced dead at Jersey Shore University Medical Center in Neptune (Sunday August 18 2014)  at 1:20 p.m., less than an hour after the crash, State Police Capt. Stephen Jones said. 

Gambacorto was participating in a driving clinic involving the small race cars and was going around an asphalt track when she lost control of the car and hit a wall.

Gambacorto's LinkedIn page says she is a student at the State University of New York at Stony Brook and another website says she was studying environmental humanities and philosophy.

Brick-based Green Flag Driving Experience, a recreational racing company, operates the program at Wall Stadium for novices as well as for advanced race car drivers.

Its website describes the three-quarter midget cars as small-scale race cars "with a very high power-to-weight ratio" that can reach speeds of more than 90 mph.

Lure of street races endangers drivers, officers
TAMPA POLICE DEPARTMENT
John Rubio (Melbourne, Fl)  was racing on the Gandy Bridge when he struck a Tampa police car.
By JOSÉ PATIÑO GIRONA
Tribune staff

TAMPA — On sultry summer nights, the crowds still gather to watch the street races.

Two cars sit side by side, waiting for a signal. Tires screech and the cars speed off into the darkness. The crowd roars.

It's been a common scene for decades, especially on or near Gandy Bridge and the Courtney Campbell Causeway. Police know of the problem but acknowledge it's hard to do more than chase the racers to another location.

Still, they try.

On Sunday, a Tampa police sergeant was injured while working an anti-racing detail on the Courtney Campbell Causeway. Police said two drivers hit speeds of more than 100 mph in the late-night race before one man crashed.

John Rubio, 34, of Melbourne, tried to avoid hitting another vehicle that wasn't in the race, police said. He lost control of his car, hit a guardrail and scraped down the road until he hit a police car driven by Tampa police Sgt. Thomas Miller.

Miller saw the driver lose control and tried to speed up to get out of the way. Rubio still slammed into the cruiser from behind.

Miller received minor injuries. Rubio wasn't injured. He was arrested and charged with reckless driving and unlawful racing on a highway, police said.

Police say they know what attracts racers to the bridges.

"It's a long stretch of road," said Janelle McGregor, spokeswoman for the Tampa Police Department, which has had an initiative for about a quarter century to stop street racing. "It's a flat, straight stretch of road."

Last year Tampa police investigated 19 cases of street racing from Jan. 1 to Aug. 12. So far this year, they've had 11 cases. All the investigations led to arrests, McGregor said.

Tampa police monitor street races based on intelligence investigators have picked up - often from social media - or simply by routine, McGregor said.

"We monitor the roadways on weekends and late at night when street racing is known to take place," she said.

On the Courtney Campbell Causeway last year, spectators pulled out their cameras as a gray Honda Civic and yellow Ford Mustang came speeding by, according to a police report.

Two adult men were arrested for racing; a 16-year-old girl was cited as a passenger in a vehicle and released to her parents.

These drivers put not just themselves at risk, McGregor said.

"It creates a danger for the innocent drivers using the roadways," she said.

Street racing comes and goes in popularity, said Mike Puetz, a St. Petersburg police spokesman.

These days, many of the events are organized through social media. Even on sites such as YouTube, a number of videos of races are posted with references to Gandy Bridge and the Courtney Campbell Causeway.

When police get wind the races are occurring, they organize to stop it, Puetz said.

Police officers investigate, issue tickets and make arrests. They can impound the vehicles used in the races for 30 days. Passengers and spectators can also be cited.

But it doesn't end the cycle.

"At the end of the day it causes those folks not to give up on racing but to move to where police are not at," Puetz said.

(  http://tbo.com/news/crime/lure-of-street-races-endangers-drivers-officers-20130812)
MARION COUNTY, Fla. —A teenage girl died after she crashed a race car at a Marion County speedway on Saturday. (March  22, 2014).
The Marion County Sheriff's Office says 15-year-old Niokoa Johnson was driving a race-ready Nissan Sentra when she lost control of the vehicle during her second lap.
She was the only driver on the track at the Bubba Raceway Park along Gainesville Road when the crash occurred around 6:30 p.m. Saturday.
Investigators said Johnson's car hit a concrete barrier, and witnesses told deputies that it was her first time driving at the track.
Johnson was unconscious when racetrack workers and others got her out of the Sentra. She was taken initially to Ocala Regional Medical Center, then flown to Shands Medical Center in Gainesville.
Johnson was pronounced dead at 3 p.m. Sunday.
A statement from Marion County Sheriff's Office spokesman Judge Cochran said,  "The Marion County Sheriff's Office will continue to look into this incident as an accidental death investigation."
Second driver from hit Formula 1 film Rush killed in a car crash: Stunt double's body discovered in canal
Italian driver Mauro Pane, 50, was a stunt double for actor Daniel Bruhl
He was found dead in his car, alongside an unidentified woman
Couples' bodies discovered in a canal near Gambolo in northern Italy
Death comes just four months after Sean Edwards was killed in Australia
Mr Edwards played his father Guy in the 2013 film
Rush, which also stars Chris Hemsworth, nominated for two BAFTAs

By Nick Pisa and Lucy Crossley
A second racing driver who starred in the hit Formula 1 film Rush has been killed in a car accident.
Mauro Pane, 50, who acted as a stunt double for actor Daniel Bruhl in the movie, was found dead in his car after it spun off the road and plunged into a canal.
Police found the body of an unidentified woman in the car alongside Mr Pane when it was discovered in the stretch of water near Gambolo in northern Italy.
Scroll down for video

+7
Killed: Mauro Pane, 50, has become the second racing driver who starred in the hit Formula 1 film Rush to be killed in a car accident
Driver: Mr Pane (right) with Rush director Ron Howard during filming of the 2013 movie
Italian Mr Pane shot several of the racing scenes in Rush, doubling for Mr Bruhl who played Austrian driver Niki Lauda.
The 2013 film told the story of the rivalry between Lauda and flamboyant British driver James Hunt, played by Thor star Chris Hemsworth.

Mr Pane's death comes just four months after Sean Edwards, a British driver who lived in Australia, died after a Porsche he was in burst into flames after hitting a wall in Brisbane.
+7
Scene: Mr Pane stood in for actor Daniel Bruhl, who played Niki Lauda, in some film scenes
Mr Edwards played his father Guy, who famously pulled Lauda from the wreckage of his burning Ferrari following the Austrian's near-fatal crash at the Nurburgring in 1976.
Police in Pavia near Milan, said Mr Pane had been missing since Sunday and his white Renault Megane car was found late on Thursday in countryside near Gambolo, about 15 miles away from his home in Sannazzaro.
He was last seen by his father after a family lunch, and he had said he was going to work at his garage for the rest of the day.
However, when he failed to answer his phone the alarm was raised and a search began.
Friends of Mr Pane said that he had been depressed since the death of his wife last year but had now started to 'get back to his old self' and was enjoying being back at his historic racing car business.
In 2008 he had won the Historic Formula One Championship, driving a six-wheeled Tyrrell P34.
+7
Starring role: Mr Pane appeared in the hit film Rush, doubling for Daniel Bruhl (pictured right alongside co-star Chris Hemsworth)
+7
Rivals: James Hunt (left) and Niki Lauda (right) before the start of the Japan Grand Prix in October 1976. Their rivalry is featured in the 2013 film Rush
'The car was spotted in the canal and when pulled from the water two bodies were found inside,' said a police spokesman.

'One is that of Mauro Pane and the second is that of a woman who has not yet been formally identified.
'It looks like the car came off the road and went into the canal but the full cause is still being investigated and it is too early to say for sure.

'We will have to carry out toxicology tests on the two victims as well to see if there were any contributing factors.'
In a statement Classic Grand Prix which supply historic racing cars for films and events, said: 'We are devastated to have to announce the tragic death of one of our own, Mauro Pane. Racer, engineer, champion and a fantastic friend. RIP.'
Some Italian media reports have speculated that the woman Mr Pane, who previously worked as a test driver for F1 team Minadi and was a 1986 Italian go kart champion, was with was a prostitute, however police were unable to confirm this.
+7
Double tragedy: Mr Pane's death comes just four months after Sean Edwards (pictured), a British driver who lived in Australia, died after a Porsche he was in burst into flames after hitting a wall in Brisbane
+7
Family ties: Mr Edwards played his father Guy, who famously pulled Lauda from the wreckage of his burning Ferrari following the Austrian's crash at the Nurburgring in 1976
In October last year, Mr Edwards died in a crash on the final corner while giving a lesson on a track.
The 26-year-old's mother Daphne McKinley said after his death that she believed the car careered off the track because the throttle became jammed.
Mr Edwards was a passenger in a Porsche when it hit a wall at Queensland Raceway in Willowbank, west of Brisbane.

Rush, which was written by Peter Morgan and directed by Ron Howard, has been nominated for four awards at this weekend's BAFTA film awards ceremony, including Best Supporting Actor for Mr Bruhl and Best British Film.
The Specialty Equipment Market Association (SEMA) announced it has finalized an agreement to purchase the Performance Industry Trade Show and move it from Orlando to Indianapolis in 2013.  

Expecting more Public Service Announcements for safe and responsible driving from the professional racing industry! 
By Natalie Tolomeo, Reporter
Last Updated: Sunday, August 19, 2012, 2:57
ORANGE COUNTY -- 
A street racing accident sent approximately 50 people running for their lives early Sunday morning.
Police said a driver set off an almost deadly chain reaction after losing control of their car while street racing on the south side of Orlando International Airport.
"A single vehicle traveling at a very high rate of speed caused a chain reaction," said Lt. Arnold Alvarez from the Orlando Police Department.
A total of six vehicles were damaged after police said the driver of a Mitsubishi Mirage drove more than 100 mph into a crowd.
The crash left one person in critical condition and a dozen other witnesses injured.
Tire marks paint the pavement on Heintzelman Boulevard where the race started and then ended with a crash around 3 a.m. Sunday.
"The car was coming down super fast and just hit people in the street," said Jean Sanchez, a witness. "It hit like seven people and people were lying on the floor."
The crash scene covered about a mile long stretch of road.
By the time officers arrived, they said most of the spectators had already fled the area, carrying several victims to area hospitals.
One of the severely wounded victims was airlifted to Orlando Regional Medical Center.
Sanchez was watching the race but escaped uninjured. He said something he could have been prevented for others as well.
"It was just a dumb move.  He was going super fast for no reason into a crowd of people," Sanchez said.
Sanchez said the drivers and audience were not racing for cars or even money.
He said it was all just a show for fun, and said even despite the accident, racers with the need for speed will still burn tires on the pavement.
Orlando police said the area has had problems in the past.
Racers said since the city closed the Central Florida Race Course earlier this month, they don't have a choice but to turn to public roadways for competition.
Investigators have not release any information about the driver of the Mitsubishi Mirage.
Police said the driver and spectators could face charges.
WINTER HAVEN (FOX 13) -
Despite a deadly accident at the Auburndale Speedway Saturday night, the races will go on this coming weekend.
Tyler Morr, a 12-year-old from Arcadia, had been stabilized with life-threatening injuries at Lakeland Regional Medical Center on Saturday night before getting transferred to All Children's Hospital, where he died Wednesday afternoon.
The track's owner, Rex Guy, said it was like losing one of his own children.
Guy said Morr was in the outside lane in his stock car, when he struck another car in the inside lane, but then lost control and slammed into the outside wall.
There were four other drivers who were not harmed. Guy said all of the drivers were properly harnessed and wearing helmets.
And their cars are not supposed to exceed 45 miles per hour. The Polk County Sheriff's Office has not yet been able to determine how fast Morr was going when his car crashed.
As you might imagine, reaction around town is mixed, about young kids, no matter how experienced, getting behind the wheels of cars.
"You never have enough experience," said Jackie Withers. "Even if you're 18 or 23, you still don't have enough experience."
"I think there should be an older age limit , 15 to 16 is what I'd look at you know," said Eric Guthrie, "when they start getting their driving permits and stuff."
"If my daughters were racing, I would know the risks," said Tammy Ryan. "I mean, you still want them to do what they do, what they enjoy in life, that's ultimately it I guess, and unfortunately, he died doing what he enjoyed."
This weekend they will be racing again at Auburndale, and the track's owner said they'll be passing a hat to raise donations for the Morr family.
Guy said they've gotten calls from all over the country, folks wanting to help them out.
http://www.myfoxtampabay.com/story/18611416/2012/05/24/race-track-family-mourns-the-death-of-12-year-old-boy 
MIAMI BEACH (CBSMiami) – Bond was set Friday at $260,000 for the man accused of hitting and killing a 45-year-old man on Miami Beach.
Joao Paulo Escudero Mauro, 20, of Aventura, stood in front of a judge Friday. He is charged with DUI manslaughter, vehicular homicide, cocaine possession and carrying a driver's license with a fake birthday on it.
The judge said once Escudero Mauro posts the bond, he'll be held on GPS-monitored house arrest at his family's home in Aventura. He was also ordered to surrender his passport after prosecutors argued he is a flight risk.
Police said Escudero Mauro was driving a silver Mercedes SUV northbound on Collins Avenue at a high rate of speed early Thursday morning when he suddenly swerved into the parking lane at 39th Street.
According to Mauro's arrest affidavit, he was doing more than 60 mph on a street where the posted limit is 30 mph.
The SUV struck 45-year-old Russell Knudson who was trying to load his bike into a gold Toyota and then slammed into a light pole which toppled to the ground. Knudson has just left work.
Neither the driver of the Toyota or the six people in the SUV was hurt.
A small bag of cocaine was found on the scene and Escudero Mauro's arrest report said officers noted a "white powdery substance in his left nostril."
His defense attorney argued Friday that it was simply dust from the air bag that went off.
"Judge, there is nothing in this probable cause affidavit indicating that he was driving and he was impaired," said the attorney.
The judge asked about the white, powdery substance on his nostrils and the defense lawyer replied, "It was simply from the air bag that deployed in his face."
The prosecutor countered with the argument that Escudero Mauro failed all of the field sobriety tests, however, police said on-scene breathalyzer test was below the legal limit at .007.
During questioning, Mauro said he had been drinking earlier in the evening. He also said he swerved to avoid hitting a vehicle which had stopped in front of him.
According to police, Mauro had on him a Brazilian state identification card which had an altered birth date which indicated that he was older than 21 years old.
Police said Mauro is from a wealthy family in Brazil and would be considered a flight risk if released on bail. The Brazilian Consulate was notified of his arrest.
Mauro was a racecar driver. Online there are numerous images and articles about him noting that he raced in the U.S. and Canada.